Just a thought… Hope is being able to see that there is light despite all of the darkness. [Desmond Tutu]
I've many things to write about today as a virtual slide show runs through my mind from the weekend past and the days ahead. Work is ramping up. Our joy is through the roof, while sadness over losses, both near to me and in another country entirely, sit heavy on my heart. So come on in, and I promise we'll make sense of it together.
Friday evening, I felt the highest highs and lowest lows in the course of just a few minutes. As Colin bounced around with the excitement of sharing our "movie and popcorn night" tradition with the grandson of my friend Nancy, we were preoccupied by wrangling their exuberance, getting them seated with their lemonade and snacks and negotiating what movie they'd watch.
Having gotten them settled, I checked my phone and saw remembrances of a great American. "Oh no," I said to Rob, as I scrolled to confirm what I and millions of others had feared: Supreme Court Justice Ruth Bader Ginsburg had died. Like so many, I was devastated to learn of her passing and frightened at the prospect of another Trump-chosen lifetime appointee to the highest court in America. That heaviness stayed with me throughout the weekend, and continues today. What next, 2020? (Don't answer.)
On the other side of that darkness, though, was the joy felt while watching two little boys in their pajamas, laughing, playing and eventually lying on the floor watching a show together. Seeing our Colin playing with someone – even though it cut into our own precious cuddle time – was good for the soul, as was the day of games and outdoor activities we shared with him alone on Saturday. How we cherish this new tradition!
I sent my friend and fellow writer/broadcaster/blogger/VO artist/radio vet Lisa a picture of Rob and Colin together on Saturday, in hopes that rather than contrast the joy of our day with the sadness of hers, it would lighten her heart. I think it worked, but on Sunday Lisa messaged me that her mom, dying from cancer and spending her final days in hospice in Southwestern Ontario, had taken a turn for the worse and now was barely responsive.
This came as a surprise: not in that her decline had continued, but that it had resumed so quickly. Just last week, her mom was expressing enormous peace and gratitude for the kindness and comfort she was experiencing after having been moved from hospital to hospice. It warmed my heart to hear the relief and respite in Lisa's writings; for a time their shared suffering was put on hold. The "rally," as it's known, was short-lived but fully appreciated.
Lisa's put her own life on hold, living at her mom's condo a few hours from her own home and doing all of the things a good daughter would try to do: in addition to caring for her mom, she's handling the sometimes overwhelming visitors' schedule (brief can be best, people!), dealing with one particular neighbour who won't stop calling or knocking at all hours to ask after her mom's well-being (despite being implored to just await word, please), and being there for her mom in every way that she can.
In past months, Lisa and I have talked about my mother's own sudden passing 8 years ago from a brain aneurysm and wondered which is crueler, which is gentler. I've often said that there's no comparing grief, but still, it's a question we ask ourselves and each other, as close friends can do. And there is just no answer.
Yet in the midst of her hour of darkness, a little godwink came to Lisa yesterday in the form of social media and this tweet.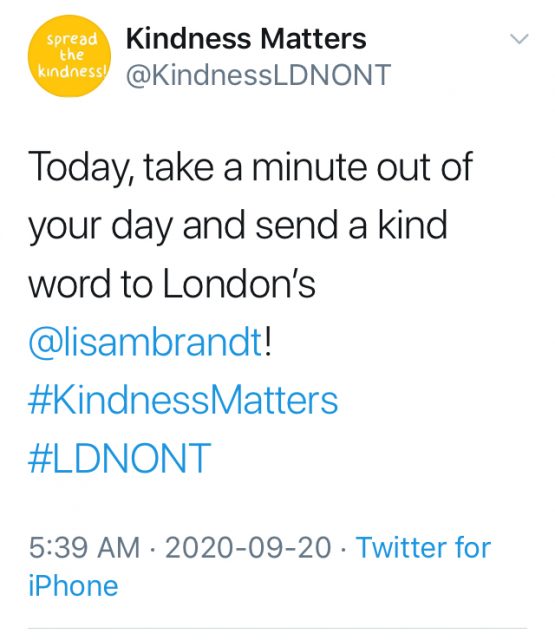 In a beautiful bit of timing, Lisa was buoyed by the comments and virtual hugs that came from friends and strangers alike, most of whom didn't know just what was transpiring in her day. Here's her response.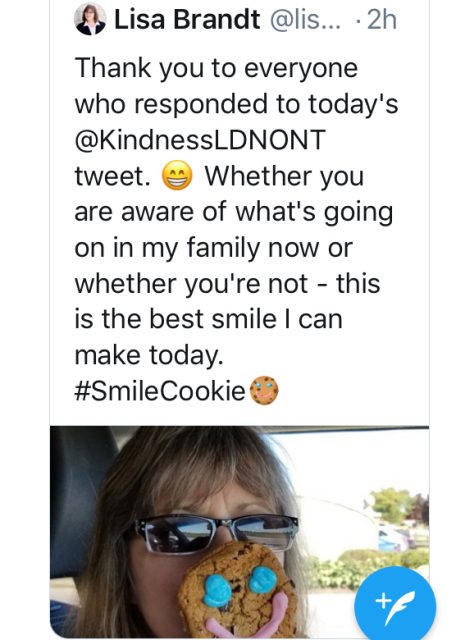 You can never know how just a few kind words or a gesture (big or small) can change even a few moments in an otherwise awful day.
A simple tweet asking for a few words of admiration for a fellow Londoner was an enormous gift; its responses, a virtual hug for a friend who is suffering.
And witnessing massive numbers of people coming together and donating millions of dollars in the memory of #RBG in the hours following her death helped me to remember that even when we're feeling at our lowest, when despair clouds our hearts, there is always a light.
Sometimes we need to search for it. And sometimes we can even be that light.