Just a thought… Your most unhappy customers are your greatest source of learning. [Bill Gates]
I don't think I've ever done a Saturday journal. So let's make it a good one. Or at least try!
First off, some observations from that travel day Thursday that I couldn't fit into yesterday's journal. And that was what happened on the Calgary to Victoria leg of the trip.
We boarded our plane in Palm Springs (which had carried just three passengers on the southern leg from Calgary) and were handed sanitizing wipes. A great welcome, to be sure! Seeing flight attendants wearing gloves, picking up trash with more frequency and so on, it came as a glaring contradiction when, on the shorter leg, there was none of that.
Even though many of us were transferring from international flights – as was obvious from the red, peeling skin and the straw sun hats – the domestic part of our trip was treated with no more precautions than any other flight we'd been on in our lives. No gloves, no wipes, no nothing.
I watched with interest (and a little horror, I'll be honest) as a passenger who didn't drink the bottled water offered to her in premium seating handed it back to the flight attendant, who kindly offered it to another passenger. That is EXACTLY how the virus gets passed. But there you go.
In response to an email yesterday from WestJet asking about our experience, I made careful note of the fact that the domestic trip we took had none of the overt precautions among passengers (gloves and wipes) that we had seen on the PSP to YYC leg.
It felt a little cruel to be complaining, with the impending layoffs of so many of the truly wonderful people at WestJet. But I had to point it out for the flights and passengers in days to come. And I can only hope they'll extend the extra care to domestic flights that we were shown on the one out of the US. But why wasn't it done?
The sense of humour among our terrific flight crew was still intact, even though I'm sure they knew that the ax was coming down soon, bringing thousands of layoffs. The woman on the mic forgot the First Officer's name and laughed about it; later I told her I understood why she was stressed, and quoted this joke.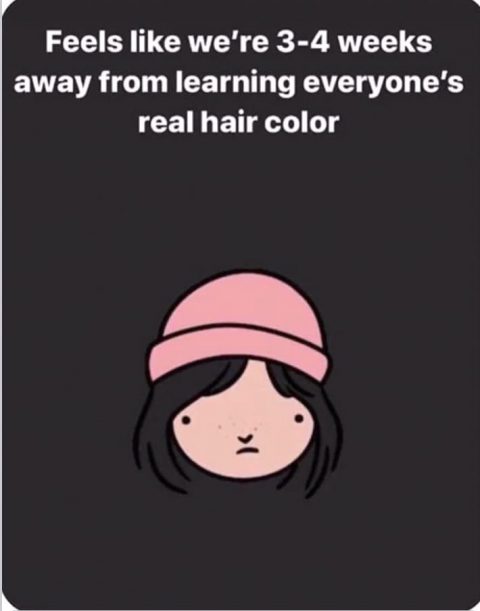 Not so funny, but something that made me smile in remembering it happened at Calgary Airport. We were sitting on a bench waiting for our luggage, so we could go through customs and prove that Molly had had her shots before we caught our Victoria flight. An older woman with sun-bleached hair, flip flops and a big frown plunked down on the bench with a tired sigh.
I asked where she was headed and she told me Alberta was her home. They were driving to Strathmore after she and her husband had collected their luggage, she explained. I said we were coming from California, which had just gone on lockdown, and she leaned over to me and told me what Justin Trudeau had done wrong: he hadn't closed the borders soon enough.
I murmured something about WHO and diplomatic ties and she realized she wasn't going to get the response out of me that she expected. (To be honest, I've been less consumed with Canada's response than horrified by the US response – or lack thereof – that I'd been immersed in for the past several weeks.)
During the one-hour flight to Victoria, I found myself smiling. I hadn't stood in my native province even thirty minutes before someone gave me their negative opinion of the PM. Sigh. It's exactly the way it was when I was a kid in Alberta – only a different Trudeau.
So I knew I was home. And never have I felt more grateful to call this place home in my entire life.
Especially when this was the view that greeted us in our backyard yesterday. (I shot it quickly when DIL Brooke asked how it felt to be home. This summed it up, perfectly.)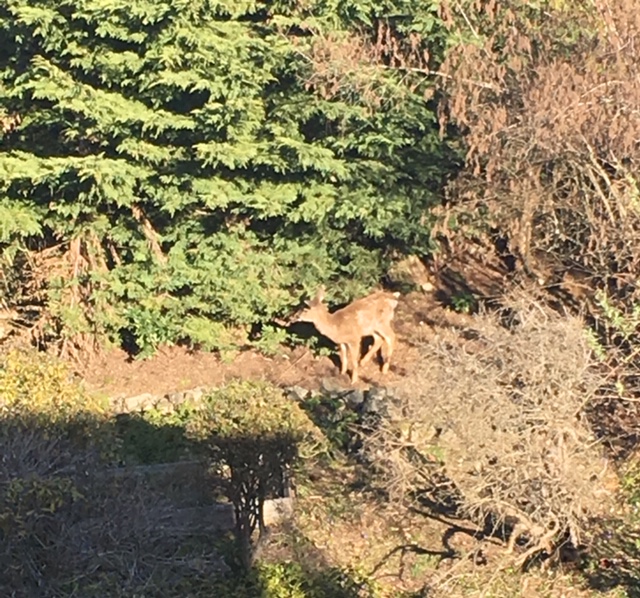 I'll be back with you here tomorrow. We Can Do This.