Just a thought… Clutter is nothing more than postponed decisions. [Barbara Hemphill]
As always, you can watch a video version of this journal on my Facebook page, or here on YouTube.
I don't know what's come over Rob and me the last few weeks. Maybe it's our tenants leaving the lower part of our house, which is now where my studio is. Could be it's a matter of hitting five years in BC and seeing a whole lot of disorganization where we should be settled in, with everything in its place, a place for everything. Or perhaps it's the whole "new year" mentality of "out with the old…" but in this case, do not replace it with "the new." Do not.
And yes, what you see here…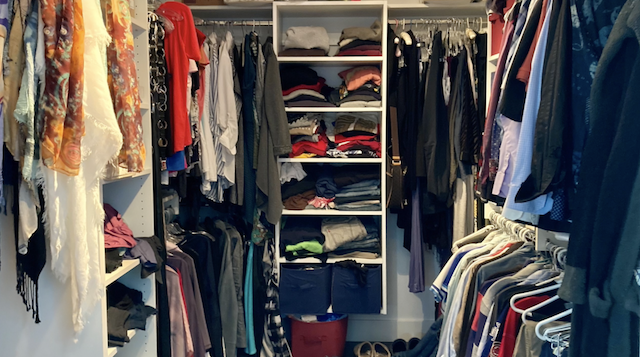 …is our closet. I'll explain in a moment. Perhaps I need this "before" shot to set the scene.
We're on a tear: getting dressers and ordering cloth baskets to help make that closet look less like the police have tossed our place for evidence. Ridding our home of things that never should have made the move from Ontario in the first place. Does anyone really need four flippers (the pancake not the scuba kind) one of which has a broken handle? I think not.
Take my so called "travel closet," which I spent hours clearing out yesterday. In it, I have two tiny old hair dryers to take on trips. Side note: if I'm going to a place that doesn't have a hair dryer, I'm likely a hostage. So one of those got sent off in the bag marked Donations. Probably should have been both.
I'm also a hotel toiletry hoarder, which was remedied last week when we took an enormous bag of shampoos, soaps and lotions – the nice ones – to the centre for which we deliver meals weekly. I also had no fewer than 18 boxes of Uncle Lee's Green Tea, a freebie that came with our vitamin shipments, and they're now off to the food bank. Not quite "all the tea in China" but it looked like it in our pantry.
Stuff is easier. But the clothes are a much harder and more emotional decision. You've seen me supporting Declutter.Diabetes.ca here and I have indeed put my Mackie where my mouth is (okay, I don't have any Bob Mackie stuff, but it's better than the "muumuu" or "mukluks" that Rob suggested for that line to replace "money").
But here's the thing – and you may have faced this over the past two years – is life ever again going to look the same as it did? I mean, working from home, noticing our bodies change, seeing our whole existence altered. Someday it has to be reflected in our closets and dressers.
I have long dresses. Only a few fancier outfits, because I was always fortunate enough to have stores that would allow me to borrow something pretty amazing if I had to do a big event, one at which the dress matched the occasion. Thankfully, I haven't invested a ton of money in clothes; anyone who knows me will agree that fashion was never that important to me.
Now I have work pyjamas and sleep pyjamas. A few nicer tops that I put on to visit here with you. My best purchase of 2021 was two pair of Lululemon yoga pants. (I have to trust they're good for yoga; right now they're great for chasing a two-year-old around the house.)
Shoes? What are they even for now other than comfort? I've put supports in my slippers because my feet are falling faster than my boobs from not wearing supportive footwear. And yes, I wear a bra almost all the time, but bought one without underwires because – well, why the heck wouldn't I?
Here's the emotional part: am I ever, EVER going to need a gown again? A pair of shoes with a bit of glitter, a dress that shows a tad more skin, with a hem that skims the floor? I'm seriously doubting it. As for that mother-of-the-bride dress, which I still adore, I'll part with it this year, I think. Brooke has suggested giving it to a girl who needs it for prom. And that's fine by me.
The hardest part is not giving up the possessions; it's giving up the dream. Another door closing on a pretty wonderful life, going from a spectacularly decorated ballroom and into a quiet, hummingbird- and deer-filled garden.
It's not giving up clothes, it's gaining space. It's opening a window to the future and seeing me without high heels. I never liked them anyway.
It's the me I was when I wore them I guess I miss the most.
I'll hope to see you here on Monday and thanks for coming by. Lisa loved your comments on her blog yesterday and I'm so glad to see that you shared it from my Facebook page. A lot of wisdom.
Now…back to my closet.