Just a thought… An arrow can only be shot by pulling it backward. So when life is dragging you back with difficulties, it means that it's going to launch you into something great. So just focus, and keep aiming. [Paulo Coelho]
As always, you can watch a video version of this journal on my Facebook page, or here on YouTube.
Ah, summer: a time for many people to kick back and take on a lighter schedule. Just try getting an appointment over the next two months!
In a way, I'm doing just that; in another way, it's quite the opposite. But I am, as the quote above suggests, pulling back.
See, when our son-in-law Phil and his wife Brooke and their two wonderful kids Colin and Jane moved all the way out here to Vancouver Island from the Ottawa area two years ago, the promise was that we'd be here for them.
So, with the school year ending, camps all ramping up and lots of other family events planned, I want to give them all the attention that Rob and I can. And that means spending just a little less time at the keyboard or in my green screen studio, not always pondering what the next journal should be about. It means spending more time being present in real life.
I began doing video journals at the start of the pandemic because I really felt we needed more connection – all of us. I'm not stopping doing journals, but I think you may agree (at least I hope that you do) that with three podcasts on the go and these semi-weekly journals, I'm busier than your average 50-something retiree. ReWiree…yes, that's more like it.
I had an epiphany on the recent river cruise and I think that I am only one in several million who has had this same awakening over the past two-plus years: with the fear of a deadly virus, and the constant fight that ensued about the pros and cons of everything from masks to vaccines and restrictions, I've gone inside quite literally and figuratively. But it's warm and safe in here. And you know what? I'm not sure if I can come out again.
The final two days of the cruise I spent not feeling well at all and, out of an abundance of caution, stayed locked in our cabin. Rob went out cycling on the Saturday, but on Sunday, he decided to do the same. It wasn't that we were fatigued with the socializing! Yes, the dance wore me out, but that's because I'm out of shape.
Of course we were worried about Covid, but it was really a metaphor for something else and, please, it's not about the people I was with. Many of them were and are friends and it was a joy to be around them. But I just don't think I have much to say anymore. I don't have a recently published book, there's no radio show and what can I tell people about stories that are meant to put them to sleep without, well, putting them to sleep?
That trip reminded me of how much I love home. I always used to be ready for the next great adventure, but I'm afraid that "sheltering in place" has gotten me far too comfortable not wearing makeup, not worrying about wrinkles in my linen clothes, not worrying about putting on anything but pj's. If it was up to me, Mike and I would have hosted the cruise looking like this (Okay, maybe without the accessories).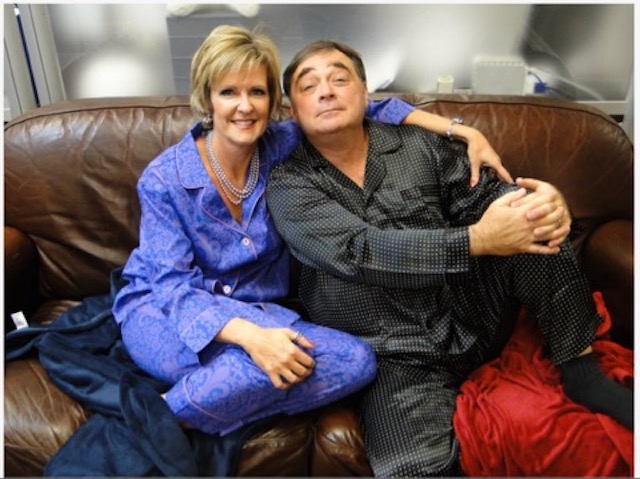 So I'm going to pull this arrow back a little bit; zoom out to find that perspective that I used in a quote last week during the "lost luggage" blog. And to that end, my journals will be on Mondays only for the duration of the summer.
If you or I feel as if that's not enough, we'll talk about it and see what to do. Of course, I'll still maintain a daily presence on Facebook, Instagram and Twitter and even TikTok as the occasion arises. And I will love staying connected with you there.
It's not that there's anything wrong, but as I see myself fading into the background, unless something big brings me back out to centre stage, I have to listen to that call to centre myself. Which isn't, I hope you'll agree, self-centred – just a little gentler. And isn't that what summer's pace is all about?
Have yourself a lovely weekend and I'll be back here with you Monday. I think Mondays still work best – hopefully for you, too – and, of course, I invite you always to stay in touch and to listen to Drift where you love podcasts. And thank you. Always, thank you.