Just a thought… Study nature, love nature, stay close to nature. [Frank Lloyd Wright]
And…here comes summer. Tomorrow morning in the wee hours (5:14 am Eastern Daylight, so 2:14 here on the west coast) we will usher in the official beginning of the sweetest season (in my books, anyway), although meteorological summer, as they call it, began June 1st.
Are you like me? I keep an eye on weather in places where I have people I love. I check Kelowna, then Calgary, then move east to Toronto and Ottawa. I've seen how very hot Toronto has gotten over the past little bit – that familiar swampy feeling comes to mind – but here we've not had to turn on our air conditioning once, as temperatures rarely and barely break the 20C mark. We've far more El Niña than heat dome this year, which is fine with most of us, except for the people worried about high water levels once again. Thankfully, here on our part of Vancouver Island, we're not watching rivers rise.
What we are watching for is nature's gentle renewal. Our yard has already seen the dogwood tree bloom, the rhododendrons are done and even the poppies have mostly come and gone. Whoever planned our seemingly random yard did it well; there's always something blooming, we never have to plant and, best of all, there's not a single worry about visitors of the four-legged kind. Let them eat whatever they want. Let the other gardeners worry about their bulbs and blooms. Us? As always, just grateful for the attention.
But guess who keeps coming back?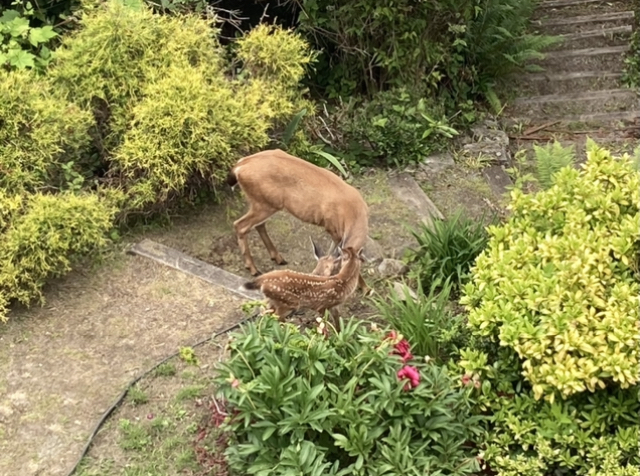 I squealed on the weekend when these two showed up. At last – a fawn.
Now usually I'd go out on the deck and not shoot through the window as I did here, but I didn't want to scare them off. Imagine being as jumpy and totally aware of its surroundings as a deer is on the calmest of days. Then ramp that up times 100 because you're protecting a baby as well. Oh my.
The little video of their visit (which is included in the video version of this journal on my Facebook page, or here on YouTube) is not as exotic as a trip along the Rhine, not as dramatic as a sail on the Nile or even whale watching (which we're hoping to do this summer with Colin) but to look out and see a momma who would lie pregnant in the back yard in the spring, now with her new little treasure having arrived? That gives me a Sunday morning feeling no matter what day it is!
Oh, and here's your weekly reminder that tomorrow, Tuesday, another Drift sleep story. More nature! It's a favourite of mine that I'd love you to visit – or even revisit – as I wrote it myself.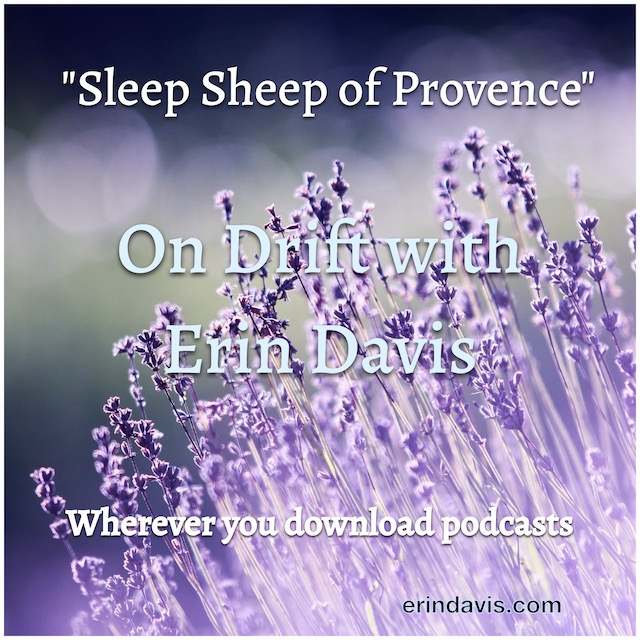 Sleep Sheep of Provence is about a travel writer (maybe you) who journeys to the south of France to witness for herself the moving of the herds to cooler fields for the summer. Join me – it's so easy: just click here and do enjoy these gentle sleep stories. No matter how bright it is outside when it's time to call it a night.
Have a lovely week and I'll be back with you Thursday.