Just a thought… If "Plan A" fails, remember you still have 25 letters left. [Henry Guest]
As always, you can watch a video version of this journal on my Facebook page, or here on YouTube.
So, I hope your week is going smoothly. Mine? Well, I'll be honest. It's just still a tech nightmare. Basically, just one big cyclone bomb.
There's a term I hadn't heard before, and it was all over the news and weather forecasts for our part of Canada earlier this week. You may have seen that I shot and posted Monday's journal with my fingers firmly crossed that we wouldn't lose power. See, we live on a peninsula that juts out of the lowest, east side of Vancouver Island. That horrific storm was swirling off the upper west coast, which made for lots of surfing and winds and hard rain for areas like Tofino and Ucluelet, but meant just winds and rain for us.
We know we live in a windy area; gusts are the biggest wild card when it comes to dicey conditions around us, as we're surrounded by very tall, very old trees .
So how to prepare? Well, unlike a disaster like pouring an entire cup of coffee on your computer keyboard – and no, we haven't gotten ours fixed or replaced yet, still waiting – we can do something proactive like get a generator, right?
Well, we've tried. Back in February after a blackout that lasted several hours, Rob started looking into it in earnest. We need a whole home one, as we have tenants downstairs, and we also need to keep up power in case it goes out while I'm hosting a live show from home, such as I am next week for Excellence Canada's big awards event.
In May we pulled the trigger and ordered one. It's the price of a used car, but we've seen more effects of climate change with every passing year.
But here's the problem (and you knew there'd be one): it hasn't arrived yet, with no word if or when it will. For all I know, our generator was on that ship that was burning off the coast of Victoria, in the Georgia Strait.
So we wait and we hope. When you try to prepare for bad outcomes but you can't even get to first base, it's frustrating. We're dancing as fast as we can. But we're doing it with coffee.
I posted a poll on Twitter Sunday night asking this about a night of stormy big winds and my conundrum about when to make coffee. Should I make it the night before and drink 10-hour-old coffee, wait and hope the power stays on, or examine my addiction? Over half of the poll's 186 responders said to make it in the evening, drink it cool…while about 30% said hope for the best. The others told me to look at why I'm worried about my coffee. (I don't know that last group!)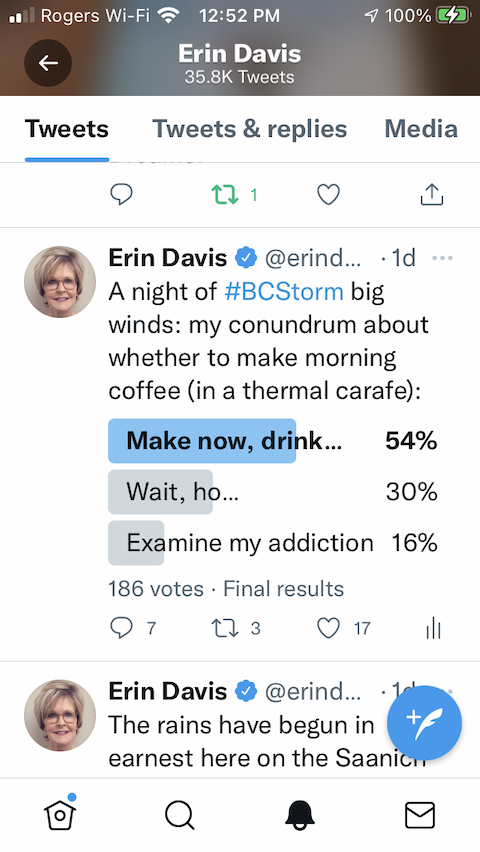 We made the coffee the night before and heated it with fresh Nespresso added in the morning and all was well. And for everyone whose power did not go off, you're welcome. Pretty sure we made that happen by prepping coffee as, miraculously, our power only sputtered briefly on Sunday night.
Have a great weekend and a safe Hallowe'en and I'll be back here with you Monday.