Just a thought… Remember: every good citizen adds to the strength of a nation. [Gordon B. Hinckley]
You can watch a video version of this journal on my Facebook page, or here on YouTube.
Welcome to November! Hope your Hallowe'en was fun/uneventful or whatever you wanted it to be. We went out with Colin and Jane and you may have seen photos on Facebook or Instagram (whichever program is cooperating on any given day) if you're interested. Anyway, we're so grateful to be able to take out our little police officer and his Emma Wiggle sister.
On Friday, Colin went to school in last year's costume – as a firefighter. Afterwards, we had him pose in front of the MINI, looking fierce and fiery. (Perhaps a Ford Pinto would have been more appropriate?)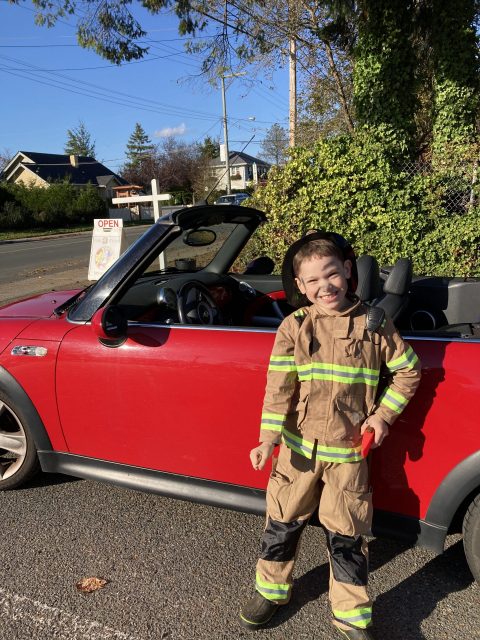 Yeah, we all know he wasn't fueled by bravery – but sugar. He saved this year's costume for trick or treating last night, when he dressed as a police officer. We were his official "police escorts," once again as bananas; you don't think we're going to retire these outfits, do you?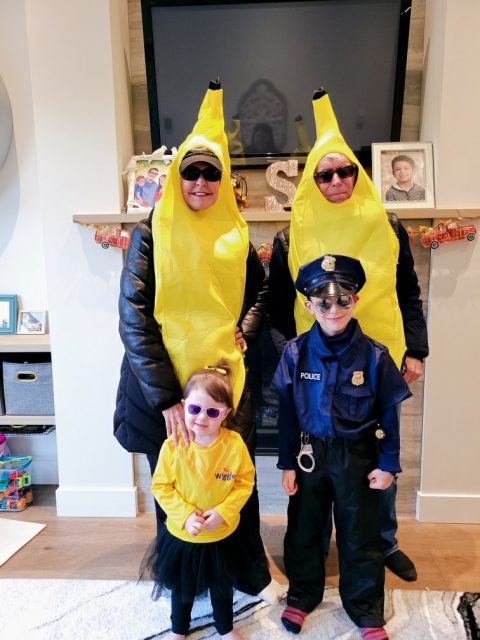 Saturday we went to a movie and then to his folks' place to carve some pumpkins.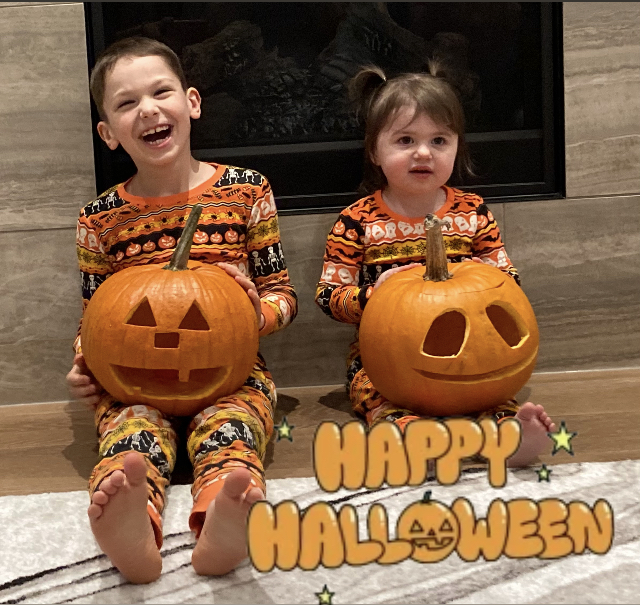 We never take for granted the fact that we're so lucky, being able to see our grandkids this often. In fact, rarely does a sleepover night go by that I don't say to Rob, "There's a little boy in that bedroom!" I mean, it's more than we ever could have dreamed of.
See, that's the thing about life. You just don't know how it's going to turn out. Sometimes it's not what you had planned, but you know that it's the best it can be. And it's up to us to choose to let go of what we thought the future would hold, and try hard to embrace what positive wonders can come of opening our hearts and minds to the future.
Speaking of opening minds, it's pretty amazing how, as grandparents, we get the opportunity to introduce the little ones in our lives to experiences. Take this past Saturday, when my friend Nancy and I met up to take our grandsons to the tiny theatre in nearby Sidney for Addams Family 2.
Before we went, Rob and I got our flu shots as part of our volunteering for the local community. We took Colin along so that if he has any fears of vaccinations, as – face it – most kids and some adults do, he'd see us get ours and that it wasn't scary at all.
At first, he said he didn't want to watch, but as soon as Grandude got set for his, Colin was right in there like an investigative reporter. So, yay! We told him we didn't even feel it (the truth) and they gave him a Shoppers Drug Mart Band-aid and he got to take a few lollypops from the waiting room. We were really happy to get a chance to do that with and for him.
Nancy, meantime, took her grandson to a quiet protest happening in Sidney against the possible demolition of the fishers' wharf there. She wanted him to see what it looked and felt like, being part of a neighbourhood and letting your voice be heard.
Two different experiences, but both pieces of being part of a bigger community: trying to make an impact on the people around us, instead of just living our own insular lives. Colin's been with us on meal deliveries, he's met recipient and now friend, Mira. He's learning, as his parents will also teach him, the importance of giving and thinking of others. What a joy, a gift to be able to help shape this little person into a solid citizen. I mean, if he's already a firefighter and a cop, he's on his way, right? (That, or he's preparing for a Village People tribute band.)
Enjoy these early days of November and I'll talk to you Thursday about a scary moment at Rob's hockey. We're grateful it wasn't Covid-related, but it was a matter of life and death. Thanks for coming by.