Just a thought… To live in hearts we leave behind is not to die. [Thomas Campbell]
This number will probably rise, but what great news to read that some $6,000,000 was raised for Foodbanks Canada by Sunday night's #StrongerTogether special. How amazing is that? O, Canada, indeed! They'll be taking donations for the next 30 days, by the way.
Rob and I rolled up our sleeves to give blood yesterday – first time in five years, when this picture was taken.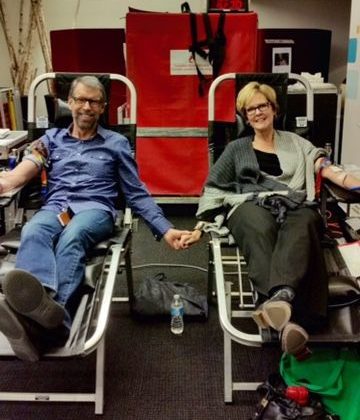 Rogers and Canadian Blood Services set up a donor clinic in Lauren's memory in the fall of 2015 in the basement meeting room of our building at 1 Ted Rogers Way and we were both deeply touched at the number of people who came out to give their most precious gift.
And so we begin to repay the debt and will continue to do so on a regular basis. We've been turned down before because of our frequent travels, but this time, they accepted us.
In doing some research, I was relieved to read that here in Canada, since 2019, the gates to more givers have been opened somewhat: men who have not had sex with another man in three months are eligible to give. However, monogamous same-sex male relationships don't allow for any bending of those rules.
Yes, I suppose the logic is that you cannot truly be sure that your partner has been faithful to you, but couldn't that question be applied to every person who comes in to donate? Maybe I'm missing something. I typed "gay" "homosexual" and "monogamous" into their search pane in Canadian Blood Services' FAQs and nothing came up. Perhaps not so FA?
So, it came as no surprise that Rob, in his pre-donation quiz, was asked whether he'd had sex with a man in the last three months. But, here's what came up on the screen as I answered those 20-some questions….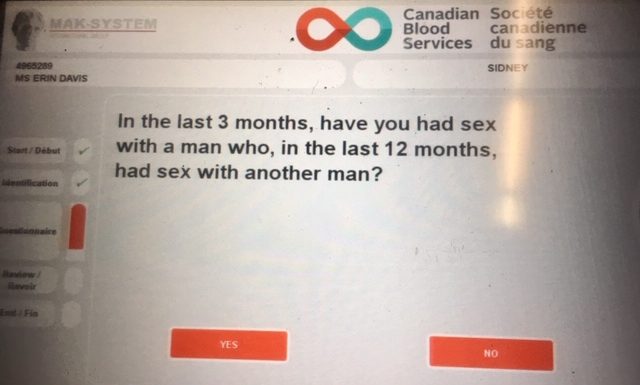 After answering the computerized questionnaire, I was taken in almost immediately to talk for about ten minutes with the nurse, a lovely man named Kaivan, who hails from Iran.
We both talked about why we elected to come to BC; he'd lived in Toronto and Ottawa before choosing island life like we had. When I told him that the only Farsi I know is the word for angel (something I learned while watching a movie years ago), that's what he started calling me: "fereshteh."
And then I told him the real reason we were there was our angel, who was an avid blood donor. I pointed to the small necklace I wear that carries just a few of Lauren's ashes. And on we went….
After waiting another ten minutes or so in carefully-spaced seating, Rob and I were directed to comfortable (and portable) reclining chairs. The entire bloodletting, if you will, took only about eight minutes. Wish we could do it in a drive-thru! Okay, not seriously, but I sure do long for a faster process. But then again, what else did I have to do, right?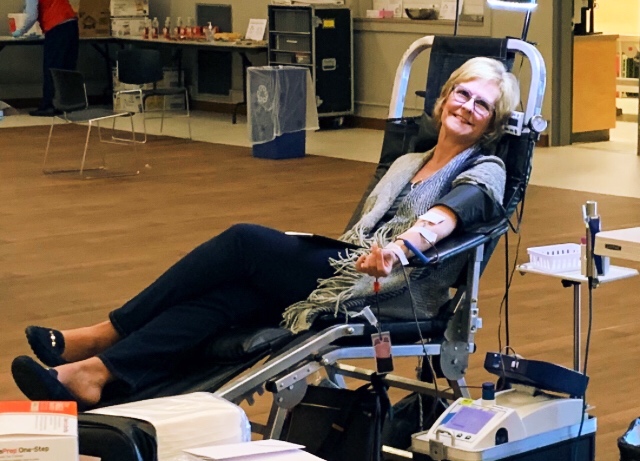 Despite delays that meant we got out of our 12:20 appointment at about 3 pm, overall I'd say it went smoothly. (When we first arrived, things were slowed by the fact that not all of the CBS people had masks, so they were awaiting the arrival of fresh supplies. Not sure how that hiccup happened, but hopefully they'll be able to take measures to prevent it in the future.)
We'll keep our promise it do it again in another two to three months and there will be online reminders to poke us (no pun intended) to do so. When I asked Bronwyn, who was attending to me, just how they're doing in terms of numbers, she said that in Victoria they have as many donors as the system can handle right now, given the distancing that is in practice.
They usually have 80 donors when they come to Sidney (which happens about once a month) but the limit is now 60. I was heartened to hear that as many people are giving as are allowed and hope that that continues.
Meantime, if you haven't given blood – or like us, have waited far too long to do it again – and you're able to, maybe you'll want to look online to find a time and place that works for you. Maybe you'll be lucky to have someone call you "fereshteh" too!