Just a thought… There are so few surprises left in life. We've gotten so addicted to knowing. It's the Google generation. We want the answer to everything right now! [Ryan Reynolds]
You can watch a video version of this journal on my Facebook page, or here on YouTube.
Well, here we are on a Tuesday that feels like a Monday that feels like 2020, that feels like…well, I'm glad you're here.
We had a great weekend as Rob's birthday coincided with Easter Sunday for the first time since 1999 and maybe the last in his lifetime, who knows? There were cards and presents, dinner and cake and more cake – a blueberry upside-down one from our dear friends and a cherry loaf from my lovely aunt and uncle, both safely dropped at the front door. (Not thrown, but dropped; that's not why the first cake was upside-down.)
All of these celebrations had Rob reminiscing: in years past we've taken off to Vegas for his birthdays but, of course, that's not a thing. But I wanted to share with you today a story of surprises, of secrets and just enough fun to take your mind off lockdowns and full shopping malls, empty schools and everything that's enough to make you just lose it. So here goes.
The year was 2004 – Rob's 50th birthday – and we wanted to do something special. So we booked a night in Niagara-on-the-Lake for a sleepover. Now, I had this whole thing planned above and beyond a hotel stay, and helping me to pull it off was my big sister Heather, who lived with us at the time while taking one of her many gemmology courses.
As planned, Lauren called Rob on the morning of April 4th to wish him a happy birthday and to lament that she wasn't celebrating with him. So I suggested maybe we meet at Thorncliffe Bowlerama and play a few games.
When we got there, Rob was floored to find that the place was decked out for a party: food, lots of friends from many facets of our lives: radio and our bandmates, some of the best pals you could ever have, from the decades we made music with Generations, including the three Blue Jays songs you can still find in remainder bins on CD or even cassette.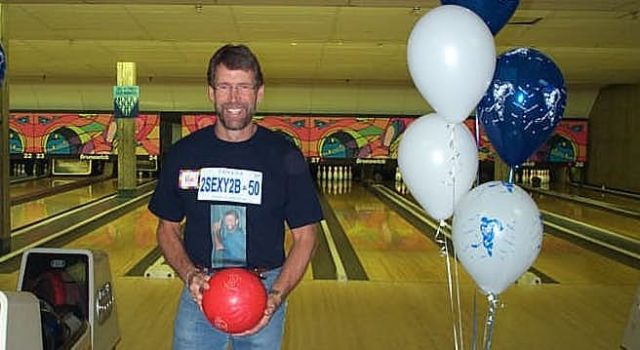 I announced there would be prizes for first, second and third place. I was confident that Rob, being a pretty good bowler, was assured to win, because the first place prize was the biggest surprise of the day.
But it almost went sideways when our friend Peter proved to be a good bowler too. As it came down to the final frame, it wasn't clear whether he would win, or Rob would.
Then, when the scores lit up on the fuzzy TV screens, I was relieved – and you'll know why in a moment – to find out that the birthday boy had indeed come out victorious.
As we opened the prizes, we got to First, and Rob opened a leather wallet. (Okay, it was a fanny pack – a nice one, okay, not puffy, but dark brown, flat and pretty cool for the time, I thought) and he reacted with enthusiasm as he unwrapped it.
Then he saw what was inside. An airline ticket. My sister Heather cheered, "Look at the date! Look at the date!" and it was right there: April 4th. That day.
I had surprised him with a trip to Las Vegas, just the two of us, and we were leaving that evening! Thanks to time zones, I even managed to add a few hours to his birthday that year. We had a terrific time and it's the year he always looks back on as the best surprise ever. We didn't win big (we don't bet big, so it's not a possibility) but we had a blast, paper-thin walls at the Monte Carlo and drunk barfy guy in next room notwithstanding.
Rob spent the whole trip shaking his head in disbelief, while also expressing some worry about how sneaky his wife was – something neither of us had ever considered before. But he also wondered how I managed to pull it off. Frankly, so do I. Now our banking is so intertwined, so electronic, so in his hands, that there is absolutely NO WAY I could pull it off. How I did it then is a mystery, but Heather must have helped.
Oh, and I also kept reminding him that he was lucky he beat Peter on the lanes, 'cause Pete and I would have had a good time, too!
Have a good day and here's to surprises of the best sort. They'll come again. We'll travel again. We'll indulge in carefree fun again with friends and, even in the case of Vegas, strangers, or the lovely ladies of the morning who, at 4 am, came up to Rob at a machine and said, "Hey sweetie…looking for company?"
Aw, bless them, he was only playing nickels. 'Cause that's how we roll: five nickels and ten pins at a time. Thanks for coming by and I'll be back with you here on Thursday.