Just a thought… Never let your memories be greater than your dreams. [Doug Ivestor]
You can watch a video version of this journal on my Facebook page, or here on YouTube.
Well, hello there! I haven't seen you in about six pounds! Okay, it's actually been nearly two weeks, although thankfully we stay connected on social media. That's where I shared with you the photo below of a most spectacular sunset last week (and, yes, our view is to the east!).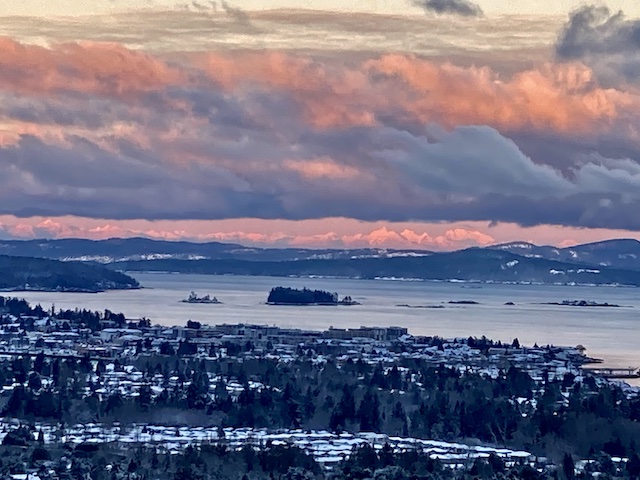 I hope you're doing all right. All around us – well, among friends in Ontario anyway – there are positive tests and isolation. Here in our neck of the BC woods, Colin's school was supposed to start up for the new year today but it'll be next Monday. I hear Ontario is further delayed and that they're fudging the numbers so you don't actually hear how many new cases there are. Okay…if that works, I'm not going to announce my birthdays and stay forever in my fifties. Sounds good!
Over the holidays, my inbox filled with stories of families who couldn't be together, or not in the way that they had hoped. The frustration and pain are real and, for that reason, I will not go too deeply into how our Christmas was, because as unusual as a family like ours is, it's almost equally unusual that we managed to spend it together. I won't gloat. I'll share one picture and then move on from the family angle.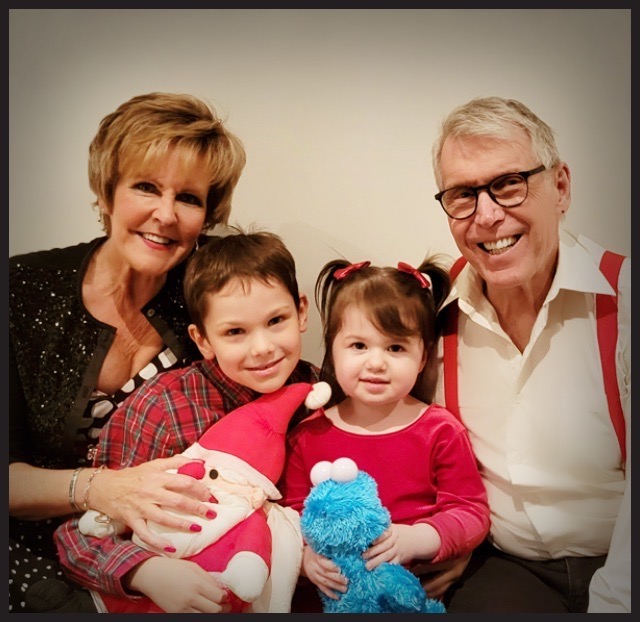 Our sweet grandbabies, Colin and Jane, had just the best Christmas. What made it most special of all, though, was that we were together and in good health. May that continue into this year with the brand new smell still on it.
Speaking of "what's that I smell?" guess who got new cookware? Rob and I decided to upgrade our worn-out 10-year-old stuff and go for some heavy grade shiny silver pots and pans. See, I am hoping that this will be the push I need to really begin to take cooking seriously. Sure, I can pull a pretty good meal together in minutes, something I learned from my mom even in her pre-microwave cooking years, but I want to be able to have company one day and serve them something that doesn't have me cringing or hyperventilating before they arrive.
So that's my aim. We did make the stuffing waffles; they were excellent, although the store-bought stuffing we used was not as good as our usual stuff…ing. I'd totally do it again for leftover meals. And just maybe I'll keep an eye out for a waffle maker on sale somewhere.
So on we go into new challenges and a new year. As in the kitchen, we'll keep trying 'til we get it right, cook like nobody's coming over ('cause one day they will), dance like no one is watching (as I do with Janey) and sing at the top of our lungs.
Everything that is coming at us will pass. All things do. We got through 2021, most of us, (we'll miss you Betty White and all the Bettys and Burts and friends and loved ones we lost) and now we set our sails for 2022. It is truly all we can do. And please stay safe. We're all doing our best to stay isolated and healthy. We keep doing the heavy lifting for those who have given up or never took up the fight in the first place.
Even though some don't, wear your mask (or in my case, two masks) out in public. Don't give up. Don't listen to those who have: the ones with the loudest and most obnoxious voices. Because despite the selfishness and literal ignorance that we see around us two years into this, we are all in this together. And if some have to do more heavy lifting than others, we're up to it. Because, as I've always said, whenever a challenge seemed too much to face: We Can Do This.
Talk to you here on Thursday.