Just a thought… When life is sweet, say THANK YOU and celebrate. When life is bitter, say THANK YOU and grow. [Shauna Niequist]
Well, thanks to so many of you, we made it through another black circle on the calendar. Three more to come and then summer. And how about this picture sent yesterday by my friend Nancy who went to the bench in Sidney, BC we couldn't visit because of self-isolation.
There, she left a perfect, beautiful bouquet which we received later. She even looked up the flowers in Lauren's wedding bouquets and corsages. I mean REALLY? Tell me please you have someone in your life this kind, loving and thoughtful. When even family forgets, it eases the heart to know that there's someone like her in our lives. And we are grateful.
We'll do this – just as millions of people are managing their own troubles every day, around the world and in our neighbourhoods. Tomorrow is a #ThankfulThursday here. Like you, I continue to think about the front line workers, as I have been doing for weeks now. They are literally and figuratively the firefighters who run into danger while so many of the rest of us are safe, sheltering and anxious about the little and not-so-little things that keep us awake at night.
I'd be lying if I said I wasn't feeling extra anxious these days. The mere act of trying to order groceries online is just running headlong into a wall day after day. We'll get through this. When isolation ends in 9 days we can only hope we'll be able to get out to shop quickly and efficiently with gloves and plenty of distance.
We're staying positive. We have food. We have each other, Rob and I, and Molly. We're healthy, as are my Dad and sisters, relatives and friends and we have a beautiful place to call home.
Today, you're going to see some of the view from this home (if the weather holds) and this face, too, if you can join me with Kevin Frankish at 7 pm EDT (4 pm here in Pacific Time) for a live chat as part of his nightly live broadcast. Kevin is, of course, everybody's favourite former Breakfast Television host.
It's all about positivity and he calls it First Aid for Your Mental Health. There's an episode here from Monday if you want to take a peek, to see what we're going to be doing. Isn't it a marvel that we can pull this off? (At least I hope that we can – we'll cross our fingers.)
Just go to www.facebook.com/kevinfrankish and it should take you there; email me if it doesn't. Again, it's at 7 pm EDT and we'll talk then.
In the meantime, as I was having a day yesterday (and you know why) – I got an email from a friend in Toronto who sent me this screenshot. I looked all day for a sign from Lauren (our medium friend Cyndi asked for one when she was out for a drive and saw three sand cranes – one apart from the other two – plus deer leaping in front of her car). Maybe David sending me this was my message.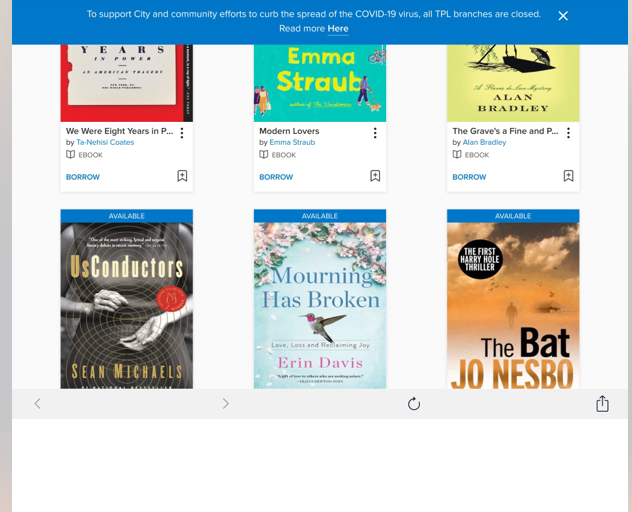 I was humbled, amazed and grateful to see that Mourning Has Broken is a Staff Pick on the Toronto Public Library website e-book page. Thank you, David, for passing this along.
In the meantime, keep going.
Don't let the dark thoughts in; don't let the dark thoughts win.
Sobriety is hard but you're worth it and I expect nothing less (she'd say).
And just keep spreading the message of "reclaiming joy," no matter what.
That's what I got yesterday. A stretch? Maybe. But today and always, we take what we can, and we are grateful.
Talk to you later today/this evening.