Just a thought… It is what it is, but it will be what you make it. [Author unknown]
Well, here we go – from a trip yesterday across the water by ferry to a flight back to Ontario Wednesday, this week has just about everything. (And yes, we took a train and a bus to where we were going Sunday, too). I do love to travel, especially when it's to do work that gives me such joy!
Shot this last night from the bow restaurant on the ferry. As I did, I remembered Sunday night traffic coming home from the cottage. This time I was returning from "work" at the end of a weekend and, oh, the view was quite different too, wasn't it?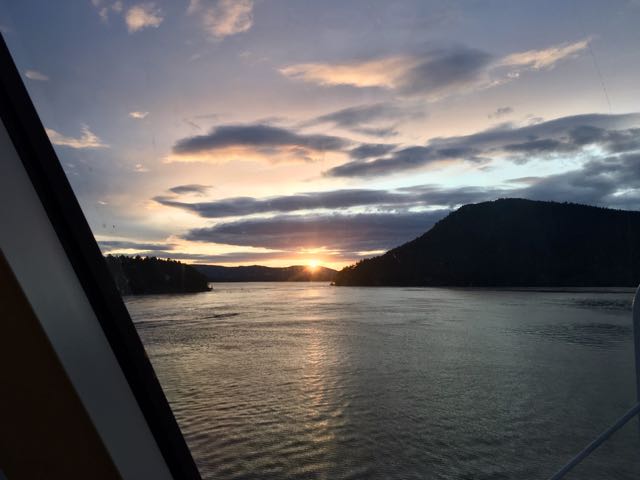 Word Vancouver was held yesterday. Like Toronto's Word on the Street, it celebrates authors and those who love to read and I got a chance to do the latter when I shared an excerpt from my book, Mourning Has Broken: Love, Loss and Reclaiming Joy. (Luckily for me, the October Reader's Digest Canada includes an excerpt of my book as their Editor's Choice, so I simply read what was literally the Reader's Digest version!)
My favourite part, besides seeing our dear friend Michael Bentley from SierraSil (which I still take and love)…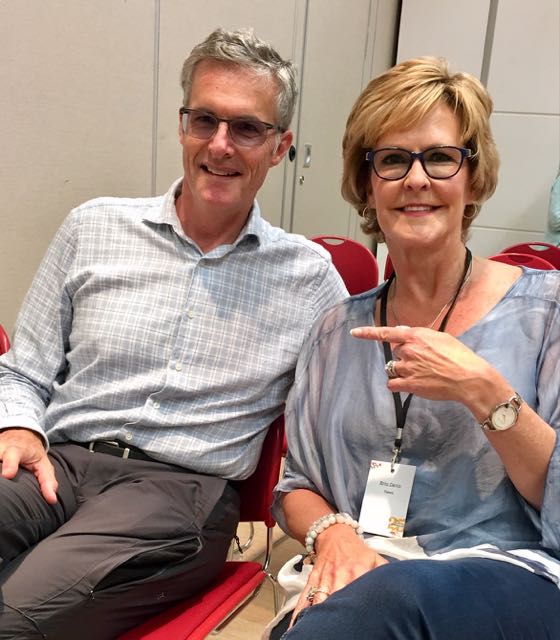 …was hearing another bereaved mom share from her book. Becky Livingston wrote The Suitcase & The Jar about her life after losing daughter Rachel to a brain tumour. Becky travelled the world – picking up where her 23-year-old daughter's dreams left off – and took with her some of Rachel's ashes.
While I haven't yet read this book, published by Caitlin Press and available on Amazon.ca, I greatly look forward to it; we swapped books when our shared reading session was over!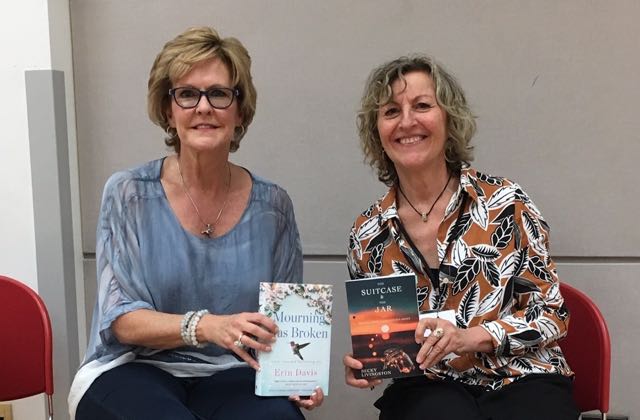 It was a one-day in-and-out trip on the ferry to Vancouver and today we're at home getting ready to hit London, Ontario (and then Ottawa) later this week.
I'll fill you in Thursday as to what we're doing, but before we get too deeply into October, there are a few things about which I'd like to remind you.
I hate to use my journal to "plug" things, leaving the "What's Up" section of my website to keep you abreast. But these are time-sensitive events and I've long promised I'd mention them. So bear with me – I promise Thursday's journal is going to be BIG.
First off, it's now almost exactly a year until our exclusive Ama Waterways cruise from Switzerland to The Netherlands. Our HOPE is that we can book this luxurious river boat entirely with our friends and that Mike Cooper and I can host you for a couple of his fantastic Coop's Classics dances.
We can take over the dining room, bar and tours – just the group of us – and have a time I promise you'll remember forever. Here's the thing: our friend Gerry at New Wave Travel has a cut-off date in just two months, for the bookings to be secure. If we don't have the entire boat booked, the cruise will be opened up to others to join us.
Now, don't get me wrong; we had a fine time with the folks who watched with bemusement as our fun group had a big ol' party on the AmaStella last spring during our Tulip Time cruise. But wouldn't it be fantastic to make it all just us?
If you have any questions at all, Gerry is a wonderful guy (we've booked travel with him for years) and is a no-pressure, tremendously patient and helpful man who'll aid you in any way he can. Click here to email him and he'll be glad to provide details.
Please, if you're considering this trip with us next October, do book your cabin now. We really want this to be an exceptional and intimate experience for everyone.
And while I'm filling you in on the fun stuff coming up, you may have heard that Mike and I are hosting a Hallowe'en-themed dance to benefit Markham Stouffville Hospital on November 1st at Le Parc in Markham.
We'll have food, prizes, costumes (only if you like to dress up) and GREAT music just like Mike and the boys used to play at the Old Mill. And we promise you a terrific time – whether you want to tear up the dance floor or just enjoy the music and great company!
Book a bunch of friends; there are rooms at Le Parc as well as other nearby hotels if you choose to make a night of it. We've had a ton of inquiries since I first mentioned it here on my website, so don't miss out – you can get ticket info here. If you have any difficulties with that website, you can contact Catherine Ortiz at cortiz@msh.on.ca or 905-472-7373 ext 6606 and she'll be delighted to help you out.
Well, that's it for now – I've got a lot of packing to do as we check our lists, gather our wits and get set for the first of two exciting trips east before we take a winter to relax.
Speaking of relaxing, if you were wondering what I did for my birthday, you might like to know that I had a massage and then 90 minutes in this float tank…
Later, we enjoyed dinner at a beautiful spot that afforded us views of a glorious sunset.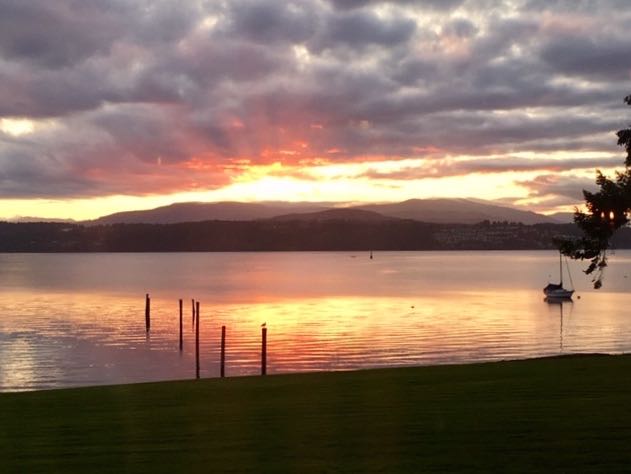 But most of all, it was a day of gratitude and serenity – exactly what I hope to enjoy a lot of in the coming months. And what's not relaxing will be fulfilling and enjoyable – just the perfect mix, I'd say, wouldn't you?
Thanks for coming back and I'll be here on Thursday.