Just a thought… The world is round and the place which may seem like the end may also be the beginning. [Ivy Baker Priest]
Yes, I've used this quote before and I'll probably use it again. It's one of my all-time favourites and it fits, perfectly.
First of all, thank you for those beautiful sentiments in response to my thoughts on guilty joy. It's morphed into full-on excitement and I have some surprises planned for the fatigued foursome arriving at YYJ tomorrow night that I don't dare write about here until Monday! Don't worry, I won't overwhelm them or have them rushing for the gate to get back on the plane!
Meantime, this is me today. And tomorrow.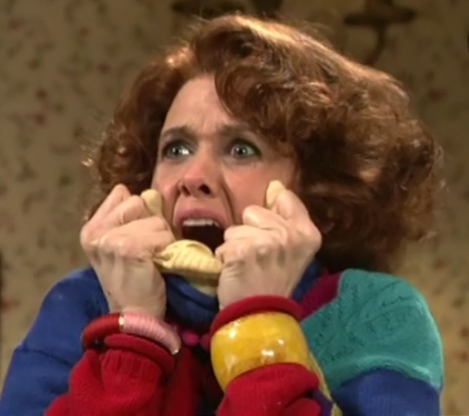 In case you don't watch SNL, this is a Kristen Wiig character from a few years back. She's the woman who can't contain herself when she learns a secret. Her joy and excitement are impossible to keep inside and, yes, that's me these days.
We are keeping busy: there's a thorough cleaning on the way tomorrow, and for the first time, we'll use that new Bissell thing that we bought. We're painting a table for their new home that we picked up at our local ReStore (the Habitat for Humanity retailer). We're stocking the fridge with important things like chocolate milk and Mr. Freezes. There are meals to plan, decals to put on a little boy's (temporary) bedroom wall and so many other tasks to keep us just busy enough to stop from counting hours instead of sleeps.
This is all the culmination of a dream we didn't dare have. I'd look at little splash pads and think, Oh, Colin would love this. I'd hear of things my friend Nancy and her two island grandsons or my Aunt Laura and her two grandchildren were doing and wonder what it would be like to take Colin on similar outings. I wasn't envious, just as I wouldn't be jealous of you for living just a few doors away from your kids or grand kids, as many have told me that you are. I'd think, Oh, that's so wonderful for them, and go on with our lives. But here we are.
Always keep one foot in the reality around you, but let your other foot step towards the horizon, because just beyond it, you never know. There could always be a miracle.
So many things – some of them awful, like Brooke's health scare – had to happen for tomorrow's dream to take flight. But it has taken a whole lot of bravery on this young woman's part, too. Just two years ago today, she and Phil went to Ottawa City Hall and tied the knot. And tomorrow, despite never having been on an airplane before in her life, she and their two children – one of them a nine-month-old baby (!) – are getting on that flight, transferring in Calgary, and making their way here. Our hearts travel with them every step of the way.

Rob and I planned our plane trips with Lauren very carefully: her first was a charity flight from YYZ over Niagara Falls and back, so she'd have a quick and hopefully easy experience with the ups and downs of a ride. It went perfectly.
For our next adventure, we loaded up activities for a trip to Florida to visit her grandparents. A nice, short flight. Everything was easy, no car seats to wrangle and just perfect introductions to air travel.
Tomorrow, you'll have a nervous and exhausted mom and dad, a boy who's flown but once (but is already a seasoned traveller in his own mind) and a baby. I can only hope their fellow flyers are healthy and patient. And that all goes smoothly. My heart will be up there in whatever rows they're in, hoping for the very best every kilometre of their journey.
If Brooke is like I was when we boarded our flight leaving Toronto to move west in 2016, there will be a few tears. Yes, emotional and physical exhaustion come into play, but the culmination of so many things that had to bring someone to that seat on that flight on that day can be overwhelming. There's a whole lot of bravery happening on those flights tomorrow and, while it may not be visible to the people in the rows around them, all dealing with their own trepidation about flying during COVID, I can only hope that kindness prevails.
Have a lovely weekend and don't miss Monday's journal. I promise it will be memorable!