Just a thought… When you live with an open heart, unexpected, joyful things happen. [Oprah Winfrey]
As always, you can watch a video version of this journal on my Facebook page, or here, on YouTube.
Here we are heading into the last weekend in May and inching towards better numbers and more openings. Getting our shots. Wearing our masks. Being caring and responsible towards our fellow citizens. We can do this.
One of the side effects of this pandemic has been a scarcity of bicycles and many people wanting to buy 0ne have found it to be nearly impossible.
Rob and I already had bikes, but here's the problem: we live on a mountain – or, at least, a very big hill. And while it makes for views like you've seen here on occasion, it also means an impossibly steep climb up and treacherous ride down.
What to do? Well, E was the answer! Our friends found a sale at a big wholesale outlet and alerted us, after having done research about the brand of electric bikes and its ratings. Rob called while I was out one day and asked me, hurry, did I want one?
I honestly hadn't thought we needed an e-bike. When we wanted to go out, we would put our cycles on a rack on the back of the car and drive wherever we wanted to go, once we'd made our way down that hill. We knew the altitude was going to kill us on the trip home; we're about 105 metres or 350 feet practically straight up from the main road below that gets us to Sidney in one direction or the kids in the other.
So we took the plunge – so to speak – and got two of the last ones left. After a whole lot of trepidation, I found the bike and its gears and battery assistance to be really easy to maneuvre. Keep in mind, I'm the gal who, while learning to drive Rob's scooter (which had the heft of a motorcycle), hit a wall at about 40 km/h nine years ago this week. I ended up in a bad way for a few months and I've not been brave on two wheels ever since. And I gave up on the motorcycle course.
Touch wood, this is going really well. Most importantly, I can pedal when I want and get my exercise.
But here's the kicker – or the kickstand: the first day I went out, I tweeted this:
Yes, I tagged Keith and Josh, my two favourite hosts of our absolute must-see Friday night show. If you're not familiar with Dateline on NBC, they dive deep into crimes, often disappearances or murder mysteries, that go on for years. In my book, I referred to it as "grief porn," which helped take us out of our own suffering, if that makes any sense. We're still hooked.
Well, imagine my surprise when Josh liked it and then tweeted: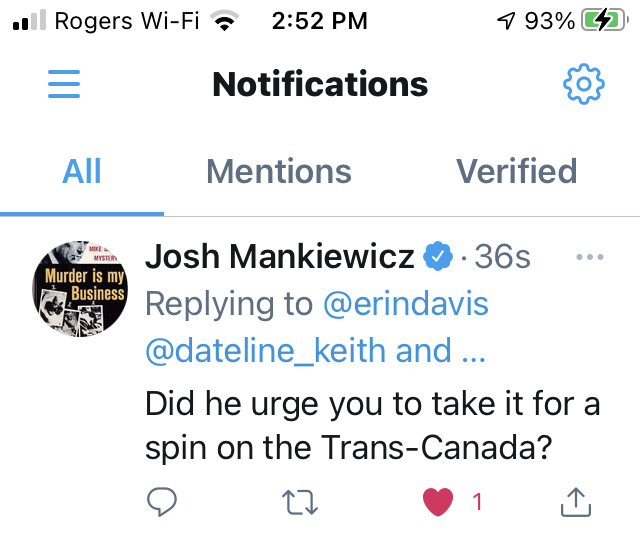 I was kind of tickled by that. And then, Keith Morrison, on whom I had a crush back in my teens when he was a CTV News weekend anchor, tweeted in return as well: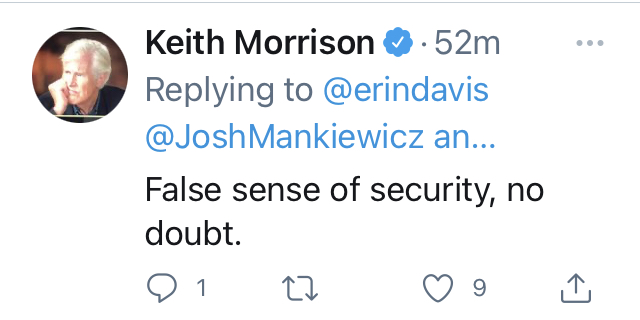 No amount of wind whistling past my ears as I rode that day at about 30 km/h down our hill could match the unbridled glee I felt just to hear back from two TV hosts I really enjoy.
I know it doesn't really matter, but in a time when everything is so surreal, that was kind of the psychedelic icing on the brownies.
Have a good weekend, fit in some fun and we'll be back with you here on Monday. I mean, I hope. Keith warned me….