Just a thought… Staying positive does not mean that things will be okay. Rather it is knowing that you will be okay no matter how things turn out. [author unknown]
I SO miss writing here every day. I'm out on walks and thinking of 17 different things to journal about, but now that I've curtailed my posts to two a week, it's hard to narrow things down!
Luckily, I can post on my public Facebook page daily to share some thoughts (usually quotes that I hope will help with your day) but sometimes I just have more to get out of me – if that makes sense?
When we were with Mike Cooper at his place last week, we shot a short video where we talked about next October's AMA Waterways river cruise.
Even if joining us (either on the boat next year or in Yorkville for a get-together on November 4) isn't in your plans – and I get that it's not for everyone – enjoy this fun and laughter-filled conversation. Click the photo below if you'd like to watch it.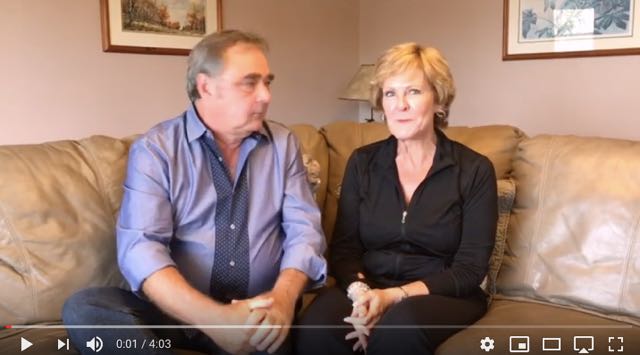 Details on the party and the cruise are within the video and I'll tell you that the man Gerry that we mention is a no-pressure kind of guy and he'll be heading up the gathering. If you want to come, please email Gerry so he has some idea of numbers. Come by for a hug and hello and we'll go from there, okay?
I shot another short video, but I'll wait to share with you next week: Molly's turning 15 very soon and I couldn't resist shooting a bit of her on a walk. This dog is energy personified (perdogified?) and she amazes me every day. I think it'll bring you some joy, especially on a Monday morning. And look, we all need that these days.
My heart has been so heavy of late with the news from south of the border and around the world, as well as the vitriol and divisiveness that has permeated our current election cycle. Trying to stay positive about anything these days is a challenge, especially when we've been hit by a rainy week here in the Victoria area.
Yes, I practise what I preach with meditation, yin yoga and getting together with friends on a shared path of recovery, but like everyone, I have my blue days. I'm just a little weary of it all.
I don't know about you, but my best remedy is focussing on the day ahead and getting busy doing what I love: tonight I put on the lashes again and head out to emcee opening night of the Sidney Fine Arts Show. I will have the pleasure of interviewing a woman who has in her possession – and shares via a book and shows – exclusive Gerry Dieter photos of John and Yoko's 1969 Bed In for Peace in Montreal. Should be fascinating!
Then tomorrow evening, I'm honoured to be taking part in a reading at Sidney LitFest – a celebration of books and authors. I love digging into life here in our new community: there's one more event (a speech for BC retirees) next week before we head east again for a series of speeches and talks, so we've got a busy month ahead before shutting it all down for the winter.
Thanks for coming along for the ride and enjoy your weekend.